Your complete guide to Sightseeing in Toronto by Public Transit
Canada's largest city, Toronto, is a vibrant cosmopolitan city with an abundance of fun things to do. Whether it is enjoying the solitude of the Toronto Islands, experiencing the sheer power of Niagara Falls, cheering at a major league sporting event, or enjoying a live show at one of Toronto's many theatres, you are sure to find many things to love about Toronto.
GETTING AROUND
Everything you need to know to get around Toronto by public transit
Getting Around All of the information you need to for sightseeing in Toronto without the higher cost and limited flexibility of package tours. We introduce you to the different modes of public transit in Toronto - Subway, Streetcars, Buses, GoTrain and GoBus along with tips and advice on how to get around trouble free. You can save a substantial amount of money by using public transit for your sightseeing; money which you can spend on seeing more attractions and enjoying other fun activities.
THINGS TO DO
cc licensed flickr photo
shared by
Robert101
Discover fun things to do in Toronto
Tour Toronto's many parks, beaches, museums, landmarks and other tourist attractions by Subway, Streetcars, Toronto Buses, Go Trains and Go Buses. Explore our site for information, pictures and videos on Toronto museums, art galleries, theatres, architecture, landmarks, historic districts, parks, gardens, beaches, shopping, dining, accommodations and more complete with tips and easy directions for getting to them on public transit. We will help you save money and see more of Toronto during your vacation. If you have only one day, or several weeks to tour Toronto, we will show you lots of superb ideas for sightseeing and Fun things to do in Toronto.
SIGHTSEEING
Spend Less and See More by using public transit for Sightseeing in Toronto
Package tours can be great, however we provide you with all the information you need if you choose to use public transit for sightseeing in Toronto, saving you money and giving you more flexibility than package tours. All of the tourist attractions we feature have details on getting to them on Toronto public transit including walking directions from the nearest stations. In addition, we provide a selection of recommended Day Tours and Walking Tours.
DINING
cc licensed ( BY SA ) flickr photo
shared by
Lars Plougmann
Recommended Toronto restaurants near Subway Stations and tourist attractions
Dining near Transit If your looking for a great nearby restaurant while exploring Toronto, be sure to check out our top recommendations for restaurants that are near Subway stations and popular Toronto tourist attractions. We feature top value restaurants covering a variety of price points and different cuisines along with a brief review on each one.
TORONTO HOTELS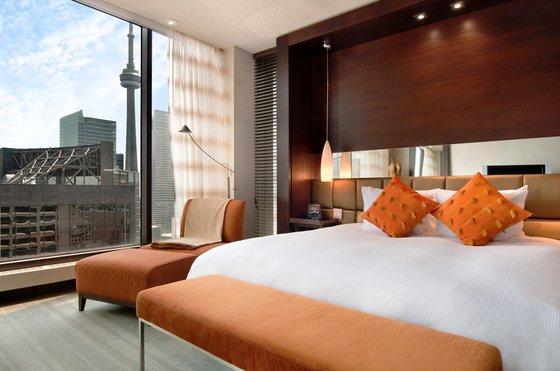 We make it easy to find the lowest price on hotels near Subway Stations and tourist attractions
Huge Selection Compiled from 100's of Sites
Find the Lowest Price in Seconds
Prices Shown Include Taxes
Pictures, Verified Reviews, Map Searches and More
Have you ever spent hours comparing site after site to find the best price on a hotel? Even if you search all the big name sites, you may still be missing out on a much lower price from a lesser known site. We can help! In just seconds we search 100's of major and lessor known hotel and booking websites showing you who has the best price. After you find which website is offering the best deal on the hotel of your choice, just click on the booking link and we will take you to right to the booking page on that site. Click here to start browsing Toronto hotels now.
LATEST FROM OUR BLOG
Vivid Sydney 2013 | Fabulous, Fun and Free
As winter approaches, the Sydney Harbourfront will once again be awash in a spectacular display of brilliant animated light and colour every night between 6pm and midnight from May 24th through June 10th Vivid Sydney 2013 is celebrating the 5th …
Save on the Trip of a Lifetime – 5 Day Rocky Mountaineer Rail Adventure
If you are planning a trip to Vancouver in May, you can enjoy the trip of a lifetime at a significantly lower cost than during the peak summer months May is actually a beautiful time to go on the Rocky …
Save on the Trip of a Lifetime – 5 Day Rocky Mountaineer Rail Adventure
Scams Every Traveller Should Know About
The Tourist Trap: Spotting con-artists when traveling abroad (via Nola com) My parents were walking down the Champs-Élysées in Paris when a well-dressed Frenchman stepped from a car, a plastic-covered jacket draped over his arm He told them he had just …
Vancouver International Airport named Best Airport in North America
By Skytrax, the world's foremost independent passenger survey (via PR Newswire) RICHMOND, BC, April 10, 2013 /CNW/ – Vancouver International Airport (YVR) was named Best Airport in North America at the …
Vancouver Cherry Blossoms Put on a Spectacular Show
Vancouver has recently enjoyed a nice stretch of warm sunny days helping to ensure that the myriad of ornamental cherry trees are in full bloom just in time for the annual Vancouver Cherry Blossom Festival Springtime is a great time …
What Everyone Should Know About Finding The Best Hotel Booking Site
Which One Really Has the Best Deals? There are literally 100s of online hotel booking sites on the internet With site upon site, how can you be sure you are getting the best deal without spending hours comparing the price …
CelticFest Vancouver – 9 Days of Fun
With spring well under way, CelticFest Vancouver is back again and there is nothing quite like Celtic music and dance to help lift your spirits and leave the winter blues behind If you are visiting Vancouver during the month of …
TORONTO WEATHER
Weather data provided by Environment Canada
No watches or warnings in effect, Toronto
No watches or warnings in effect.
---
Current Conditions: Mostly Cloudy, 14.7°C
Observed at: Toronto Pearson Int'l Airport 04:00 AM EDT Sunday 19 May 2013
Condition: Mostly Cloudy
Temperature: 14.7°C
Pressure / Tendency: 101.9 kPa falling
Visibility: 24.1 km
Humidity: 54 %
Dewpoint: 5.6°C
Wind: E 9 km/h
Air Quality Health Index: 3

---
Saturday night: Chance of showers. Low 13. POP 30%
Mainly cloudy with 30 percent chance of showers. Low 13. Forecast issued 9:44 PM EDT Saturday 18 May 2013
---
Sunday: A mix of sun and cloud. High 25.
A mix of sun and cloud. High 25. UV index 8 or very high. Forecast issued 9:44 PM EDT Saturday 18 May 2013
---
Sunday night: Partly cloudy. Low 15.
Partly cloudy. Low 15. Forecast issued 9:44 PM EDT Saturday 18 May 2013
---
Monday: Chance of showers. High 26. POP 40%
Cloudy with 40 percent chance of showers. High 26. Forecast issued 9:44 PM EDT Saturday 18 May 2013
---
Tuesday: Chance of showers. Low 16. High 19. POP 60%
Cloudy with 60 percent chance of showers. Low 16. High 19. Forecast issued 9:44 PM EDT Saturday 18 May 2013
---
Wednesday: Chance of showers. Low 12. High 20. POP 60%
Cloudy with 60 percent chance of showers. Low 12. High 20. Forecast issued 9:44 PM EDT Saturday 18 May 2013
---
Thursday: Chance of showers. Low 12. High 16. POP 60%
Cloudy with 60 percent chance of showers. Low 12. High 16. Forecast issued 9:44 PM EDT Saturday 18 May 2013
---
Friday: Chance of showers. Low 11. High 16. POP 60%
Cloudy with 60 percent chance of showers. Low 11. High 16. Forecast issued 9:44 PM EDT Saturday 18 May 2013
---